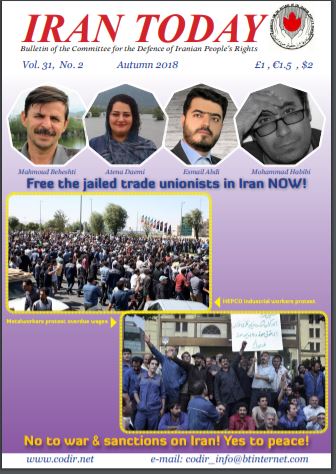 Table of Contents: NEU solidarity- Defend the rights of teachers in Iran                                              Page 2 Editorial:  Yes to Solidarity, No […]

September 4th, 2018

Features
,
Publications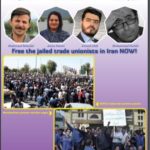 Table of Contents: NEU solidarity- Defend the rights of teachers in Iran                                              Page 2 Editorial:  Yes to Solidarity, No […]

September 3rd, 2018

Features
,
Labour News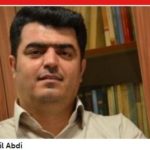 Esmail Abdi, teacher and leader of the Iranian Teachers' Trade Association (ITTA) , was arrested in June 2015 while trying to attend the Education International (EI) 8th World Congress in Ottawa, Canada. His trail was grossly unfair: he was denied […]

August 28th, 2018

CODIR says...
,
Features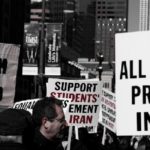 The start of 2018 saw a massive upsurge of angry protests by workers across Iran against unemployment, poverty wages, unpaid wages, and corruption. The events which have escalated from small-scale protests against food shortages and price rises, rapidly became more […]

August 16th, 2018

Features
,
Labour News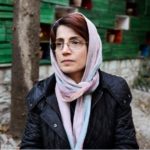 15 August 2018 – One of Iran's most prominent human rights lawyers has been sentenced to five years imprisonment for criticising the country's judiciary, according to her family. Lawyers for Iran's award-winning human rights advocate, Nasrin Sotoudeh, said Wednesday that […]

August 13th, 2018

CODIR says...
,
Features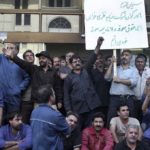 12th August 2018 The next step in the undeclared war on Iran has been taken by the United States, with the first wave of sanctions imposed last week, following the unilateral withdrawal of the US from the Joint Comprehensive Plan […]

August 11th, 2018

Features
,
Labour News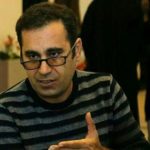 The Council for Coordination of Teaching Syndicates has issued a statement protesting the sentence imposed on Mohammad Habibi, a teacher union activist. The council has called the verdict a good example to measure judicial fairness in Iran. The Council has […]

August 9th, 2018

Features
,
Labour News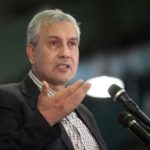 Islamic Republic's parliament gave a no-confidence vote to Labor Minister Ali Rabiei in its August 8 meeting, after giving him a chance to defend his record. This was the second time in six months that parliament was voting on a […]

August 9th, 2018

Features
,
Labour News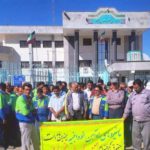 A group representing rail workers in Iran has issued as statement promising to continue their strike and protests until their demands are met. The rail workers went on strike July 20 demanding to be paid their overdue wages. They say […]

August 9th, 2018

Features
,
News & Analysis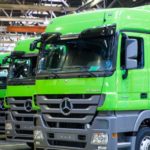 German auto giant Daimler halted its business activities in Iran hours after U.S. President Donald Trump vowed to block any company operating in Iran from selling in the vast U.S. marketplace. "We have suspended our already limited activities in Iran […]

August 9th, 2018

Features
,
News & Analysis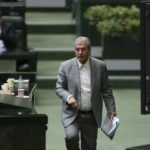 As the first round of reimposed U.S. sanctions against Iran takes effect, the Iranian economy is taking a beating, and Iran's leaders are expressing concern about maintaining social cohesion in the face of increasing economic pressures. Iran's Minister of Cooperatives, […]